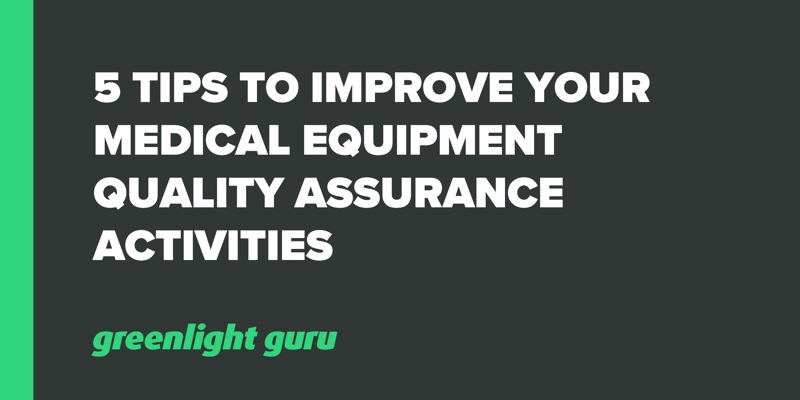 You've just finished designing what appears to be the perfect medical device. It accomplishes its primary objective of helping care providers, it's affordable, it's lighter than the competition, and it's more durable.
But, upon seeking FDA approval, your device is denied. Why? One of the materials used in manufacturing is prone to breaking if the device gets too cold, which is likely to occur when shipping it to certain regions.
The above scenario is entirely avoidable when the right quality assurance activities are in place. The company likely would have caught the materials flaw with a functioning material review board or proper internal audit.
Medical equipment quality assurance activities are distinct from that of quality control. Where quality control helps to catch problems after manufacturing, quality assurance keeps processes as safe and efficient as possible before manufacturing, as well as after. With the right quality assurance practices in place, quality control should be easier to implement.
Medical equipment quality assurance activities rely on a strong design control foundation, leadership alignment, and more. There are several ways you can ensure your medical quality assurance activities are as effective as possible. Keep reading to learn about five things you can start doing today:
FREE RESOURCE: Click here to download our content toolkit for medical device QA/RA professionals
1. Pay special attention to design control
Design controls are processes put in place that govern the direction of the device. These controls exist to ensure the device accomplishes what it needs to for the customer, is safe to use, and fulfills any compliance requirements.
Quality managers typically use design controls to see how inputs—changes brought about by customer complaints, quality control matters, and so on—will impact the design output. There are a couple of points to keep in mind if you want your design controls to be as effective as possible:
Include user requirements, compliance requirements, and even standard requirements in design controls, which will result in a near-complete picture of quality as it pertains to your product design. Considering these requirements allows you to make improved predictions around the impact of any changes in design and how those changes could impact functionality or compliance.

Add design controls to your quality management system (QMS), and update them whenever they change. This ongoing maintenance makes it easier for your team to check the potential impact of any design changes on the fly, no matter how big or small.

Focus on traceability when monitoring design controls. Design controls only do you good if you're able to see whether they're being followed, where issues arise, and how potential issues impact other parts of the device process. The right QMS will allow you to monitor the entire design control process, making all of this possible.
Achieving traceability is nearly impossible to do using manual processes and outdated quality system tools. Those systems are simply not built with the infrastructure needed to support such processes.
Greenlight Guru Visualize is designed for today's medical device professionals to envision your quality system in an entirely new way. Visualize allows you to achieve closed-loop traceability by visualizing relationships within your QMS in a single network view, so you can understand the downstream impact of any change.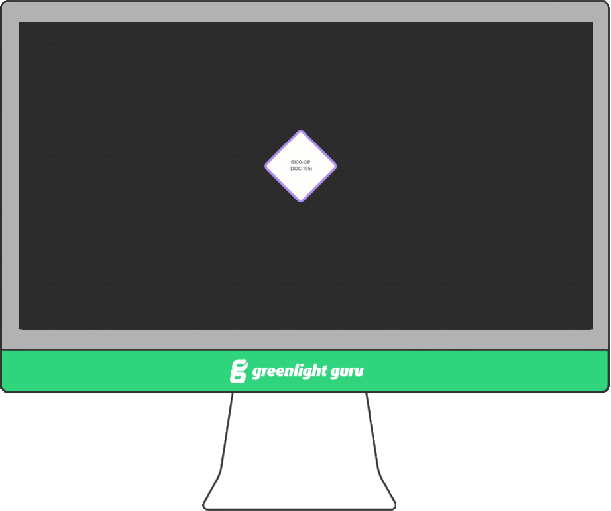 Click here to get your free demo of Greenlight Guru Visualize
For more proof of how important design controls are, look at the catastrophic aftermath of the Poly Implant Prothese (PIP) breast implant disaster. PIP threw design controls—and caution—to the wayside and used an unapproved silicone for implants. This resulted in thousands of internal leaks and health scares, along with costly lawsuits and eventual prison time.
On the flip side, consider the story of Photonicare. This medtech company improved the traditional otoscope by implementing ultrasound technology, so the device was more effective in finding ear infections. Had Photonicare failed to pay attention to design controls, it's likely their device would have failed. Instead, Photonicare closely wove their medical equipment quality assurance activities into their Greenlight Guru QMS platform to ensure design controls were prioritized.
2. Align leadership and contributors with clear expectations
Quality assurance isn't a one-and-done task. Quality will fall to the wayside without alignment between executives, managers, and any device contributors—whether pre- or post-market. Without alignment between leadership and contributors, everyone's definition of quality becomes splintered.
Unfortunately, there's often a discord between executives, managers, and other device contributors. When we asked those in the medtech industry what their biggest design control hurdles were, the answers showed a stark contrast:
Executives are most concerned with ensuring traceability throughout the product life cycle, managers say documenting work throughout product development, individual contributors are most focused on managing a 'pile' of documents.
Set clear expectations around quality from the beginning and make sure it's a part of your quality assurance processes, design controls, and your QMS. Detail who is in charge of what, which people will be a part of your materials review board, what constitutes a Corrective and Preventive Action (CAPA) investigation, and so on. And remember that this process will evolve over time, so leadership and quality contributors must meet regularly.
Setting clear expectations as early as possible ensures everyone's on the same page, and makes it clear from the beginning that quality is an ongoing process. This alignment also makes it possible for your team to focus their efforts toward a common definition of quality, making it easier to set goals, build design controls, set medical equipment quality assurance activities, and create a quality device.
3. Treat audits as more than a checkbox item
Quality audits are a key quality assurance activity, but are often treated as another box to tick. Respect quality audits and treat them as a meaningful way to learn, grow, and improve, so you're able to extract as much value as possible from them.
FDA requires manufacturers to conduct internal quality audits on an ongoing basis under its quality system regulation (QSR), 21 CFR Part 820. Rather than tackle these audits when they arrive, plan ahead and build your QMS quality assurance procedures around quality audits.
A proper QMS will allow you to create and manage projects for an audit. Within these projects, you can create individual tasks that align with QSR requirements, take steps to pass the audit far in advance, and keep those tasks front of mind even after the audit is finished.
You should also think about what your latest audit findings revealed, and how you can make meaningful improvements around these insights. Audits are recurring events, each one providing you with the chance to learn and grow. With the QMS projects for the audit in your platform, you can revisit your audit checklists anytime and continue to take the necessary steps to "pass an audit"—even when no audit is near.
Being able to quickly revisit these checklists also makes it easier to turn these behaviors into routine and establish a culture of quality. This can have a ripple effect that leads a team to commit fully to quality year-round, not just during audit time.
4. Fully integrate risk management into your QMS
QMS platforms that are only seen and used by medical device companies to track project progress are underdelivering huge amounts of untapped value to their organization and product.
Risk management is one subsystem of a QMS which should be fully integrated and connected with other subsystems, as this will allow you to ensure you're creating a safe and effective product.
Of all the high-performing companies we surveyed in our 2021 State of Medical Device Report, half of them fully integrate risk management into their QMS. The companies that do integrate risk management into their QMS reported they're doing so throughout the entirety of the product's lifecycle, not just during the pre-market phases.
This full integration of risk-based processes throughout the QMS can provide benefits in every stage of the product lifecycle, such as facilitating smooth management of supplier or materials changes during post-market.
Integrating risk management into your QMS is made seamless with a best-in-class QMS tool that enables closed-loop traceability and provides predictive insights to help companies avoid potential issues and understand the downstream impact of changes.
This functionality, coupled with dedicated design control and risk management workflows, will allow you to effectively manage your design inputs and outputs with risk management fully integrated at every stage.
5. Use a medical device quality management system
While we've mentioned QMS platforms a few times already, medical device-specific QMS platforms bring added functionality that makes your life as a quality manager easier. A medical device-specific QMS makes it possible to take advantage of the insights made possible by a traditional QMS.
But unlike a traditional QMS, a medical device QMS like Greenlight Guru integrates medical device industry best practices and the latest regulatory procedures into a single source of truth with dedicated workflows, like Design Control and Risk Management Software.
Because our QMS is tailored to fit the medical industry, we make it easy to create new projects that align with your day-to-day tasks. For example, Greenlight Guru allows you to quickly create and track quality events, like nonconformances and CAPAs so the process of flagging and responding to quality-related issues is faster and more efficient.
With Greenlight Guru Halo℠, our new AI-powered recommendation engine, companies also benefit from data-driven insights and predictions provided by the industry's first predictive quality solution. Companies are notified about certain risk factors and design/change-related issues before they're a problem.
FREE RESOURCE: Click here to download our content toolkit for medical device QA/RA professionals
Improving quality assurance activities with a solution made for medical device companies
Medical quality assurance activities exist to keep your device on track for a safe, successful run. The above steps may take time, and it will likely take even longer to make those improvements habits. Start slow, plan ahead, and get buy-in from your leadership team first. Then, begin implementing each step and improving your medical equipment quality assurance processes.
To make your task of improving medical equipment quality assurance even easier, begin using Greenlight Guru. Get your free demo and see for yourself how Greenlight Guru can streamline your efforts for achieving true quality.
---
Looking for a design control solution to help you bring safer medical devices to market faster with less risk? Click here to take a quick tour of Greenlight Guru's Medical Device QMS software