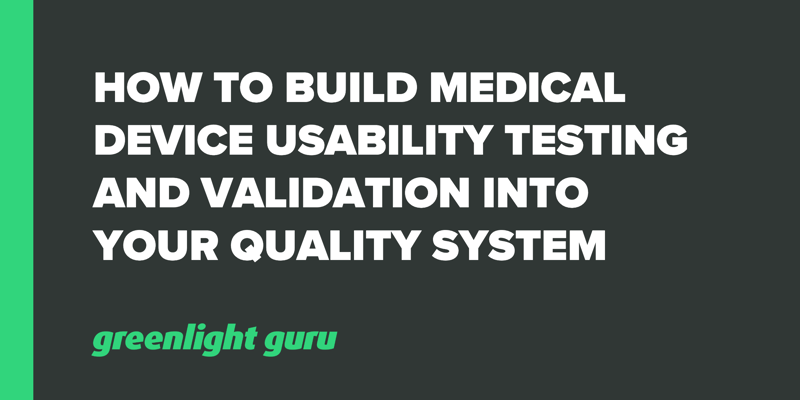 Medical device usability testing and validation are critical tasks leading up to a medical device's debut on the market. "Usability" looks at how the user interacts with your device and forms a key component of overall risk management and safety.
If there is any "spoiler alert" to this article, it's that human factors, including usability and validation, should not be put off to the last minute. The ultimate goal of early planning for usability testing and validation of your medical device is to ensure you're building a safe and effective product for the end user.
Early considerations should evolve into formal procedures for usability testing and validation activities that live within your quality system. This will prevent you from needing to scramble last-minute or work retroactively once it's time for your device submission.
This article will provide an introductory look at usability testing and validation and how to build these key components into your quality system:
FREE RESOURCE: Click here to download our Human Factors & Usability Engineering Report Template + Checklist.
Introduction to medical device usability
Usability research looks at the interactions between human operators and the medical device. Testing should be conducted on anyone who plays a role in operating the device, from patients to clinicians to people responsible for sterilizing or maintaining the device.
This topic can be tricky because medical devices are used in such a broad range of settings these days. Your device might be used in a clinical setting, such as a hospital, alongside many other devices. You might have a home-use device, which will require a potentially unskilled patient or caregiver serving as the operator of the device.
For these reasons, medical device usability testing demands a detailed analysis by engineers to understand the interactions between the device and the end user within the intended use environment. This allows you to create realistic risk acceptability models.
Human factors principles have been applied for decades to nearly every industry in which there is a high degree of risk involved with the products/services being offered.
The medical device industry falls under that label as well, although, through human factors testing and other risk management best practices, we aim to keep that risk as low as possible.
Data from the FDA shows that up to 50% of medical device failures can be attributed to design issues, while 36% of product recalls are initiated due to design. The design of the medical device, along with its labeling, packaging and instructions for use should always promote safe and effective use by the end user.
Regulatory frameworks for usability testing
There are established regulatory frameworks for usability testing of medical devices, each of which will be unique to the market in which you're selling your device.
In the U.S. market, FDA is very specific about its usability testing requirements and has issued a guidance document for medical device manufacturers on human factors and usability engineering.
This guidance describes what FDA expects in terms of the methods that should be deployed to analyze risk, how to define those methods, characteristics of the user and user environment, as well as planning, implementation and documentation of usability testing. It also references IEC 62366 as a standard manufacturers are recommended to follow.
IEC 62366-1:2015 is an international standard that specifically covers the application of usability engineering to medical devices. It's important to note that the IEC specifies that the standard covers assessment and mitigation of risk associated with normal use and use errors of the device. It doesn't cover abnormal usage; however, it can be used to identify such risks.
IEC 62366-1 is the overlapping standard for FDA, the European Commission, and other regulatory bodies.
Europe's medical device regulation (EU MDR) is a little less specific about usability requirements, as this is covered largely in part in the General Safety and Performance Requirements.
MDR does include requirements for product validation and usability-related activities, of which must be documented in a manufacturer's technical file. Additionally, the regulation emphasizes the need to collect and evaluate usability data as part of a manufacturer's post-market monitoring and evaluation process.
Establishing Usability Engineering procedures in QMS
21 CFR Part 820.30 covers design control requirements, an essential subsystem of your QMS. Within the FDA quality system regulation, the need for human factors and usability testing is implied, as shown here:
c) Design input – includes "needs of the user and patient"
f) Design verification–performance criteria met
g) Design validation – "... devices conform to defined user needs and intended uses and shall include testing of production units under actual or simulated use conditions. Design validation shall include software validation and risk analysis."
The design review process is another area in which your QMS should heavily feature usability engineering (UE). Many product engineering teams make the mistake of leaving design reviews as a last-minute, checkbox activity. Doing so makes it much more difficult to go back and correct any design mistakes if they're uncovered too late into the design and development process.
As a general rule of thumb, it is recommended you conduct a design review following the end of each development phase, at a minimum, and include human factors and UE as part of that review.
Conducting and reporting usability testing
As far as the person(s) conducting your usability tests, this will require a very specific skill set to understand what is required and be able to conduct the testing effectively. If using internal resources to conduct usability testing, training and competency of personnel will be critical. If you choose to outsource your usability testing, you can turn to a trusted partner that specializes in medical device human factors and validation testing.
In order to form your usability testing dream team, you'll want to involve engineering, regulatory, training and marketing managers from your organization to work alongside those at the testing company. Collectively, you'll be able to best determine user groups and create participant screeners. FDA recommends you test at least 15 people for each identified user group. Following testing, you should receive a thorough report along with some conclusions drawn.
Once testing is complete, you will need to produce a usability engineering report that will need to be delivered to the respective regulatory body of the market where your medical device is sold. It's critical to note that this report should not simply summarize your usability validation testing, a very specific format is required.
According to FDA, the eight sections of the usability engineering report should include, in order:
Conclusion

Descriptions of intended device users, uses, use environments, and training

Description of device user interface

Summary of known use problems

Analysis of hazards and risks associated with the use of the device

Summary of preliminary analyses and evaluations

Description and categorization of critical tasks

Details of human factors validation testing.
To illustrate the prescriptive nature of these requirements, FDA expects to see this exact statement in your conclusion: "[Device Name] has been found to be safe and effective for the intended users, uses, and use environments." The rest of the report should provide evidence to support this statement.
TIP: Begin drafting your usability engineering report early-on in product development. Like many other reports that carry regulatory requirements, leaving it to the last minute could put your team in a bind to rush through it, compromising the quality of the report which could result in noncompliance.
FREE RESOURCE: Click here to download our Human Factors & Usability Engineering Report Template + Checklist.
Medical device usability testing is essential for achieving true quality
In a sense, medical devices begin and end with human factors. Usability testing is a critical part of understanding the user interface of a device and ensuring that product risks have been considered and reduced as much as possible.
True Quality is only achieved when the device is built to serve the end user. Capture user needs carefully and work with end users in the environments in which the device will be used. Get feedback early and often. This is another critical step toward ensuring a safe, effective medical device will be delivered to the end user.
Lastly, keep excellent records! Having an up-to-date, reliable QMS will help you to collate all evidence that's required to be easily accessed with the click of a button. Greenlight Guru is the medical device QMS designed specifically for medical devices — get your free demo of Greenlight Guru today →
---
Looking for a design control solution to help you bring safer medical devices to market faster with less risk? Click here to take a quick tour of Greenlight Guru's Medical Device QMS software