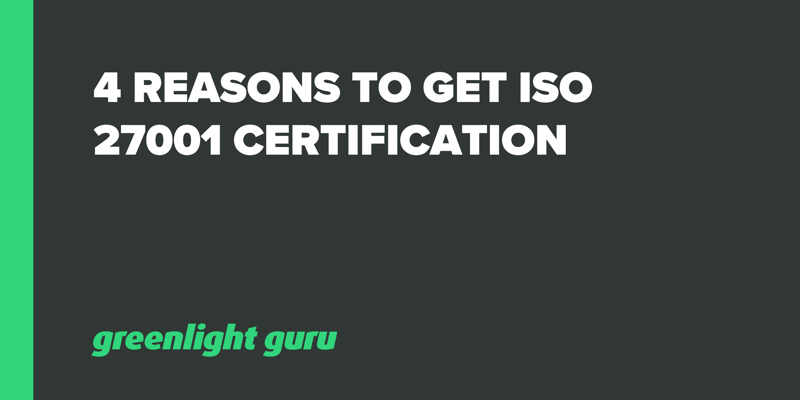 The average data breach costs a company $3.86 million dollars. Perhaps worse than the financial burden is the toll that data breaches take on your brand's reputation. When your company experiences a data breach, the confidence of your customers is breached as well.
Now, more than ever, strong information security is a must. This is where the ISO 27001 certification comes in.
ISO 27001 is an international standard that provides guidance on incorporating an information security management system (ISMS) into an organization. An ISMS is a set of processes for ensuring that information is safeguarded against internal and external security threats.
While it isn't required of most businesses, it does signal to customers that you take their trust in your business very seriously while also bolstering your own security.
In order to be ISO 27001 certified, organizations must follow a set of guidelines for ISMS use and information security practices, and then pass an inspection from an accredited registrar.
ISO 27001 certification also requires ongoing audits from a third-party firm, meaning your company must always stay on top of the framework requirements. Once certified, the certification should last three years. Businesses are also encouraged to conduct an annual internal audit of their systems.
In other words, getting an ISO 27001 certification isn't easy, but it is worth pursuing. Let's go over four of the most important reasons why you should consider getting ISO 27001 certified.
ISO 27001 certification can give you a competitive advantage
Companies with ISO 27001 certification are more likely to stand out to consumers because the certification is optional and difficult to obtain.
In one survey, 71% of organizations said they were regularly asked about proving they had ISO 27001 certification. Failure to produce this could mean the difference between landing a customer and losing them to the competition. If you want to stand out with your own ISO 27001 certification seal, you'll need to act fast.
Competition across many industries is getting fiercer, with many companies finding creative ways to stand out to prospective customers as a provider they can trust. By having ISO 27001 certification, you're telling prospective customers that you take security seriously, value their information, and are unlikely to let anything happen to their records. Certification gives companies a competitive edge as a badge of trust for prospective customers and helps them build a security-oriented work environment.
ISO 27001 certification can reduce risk of cybersecurity threats
Because of its extensive requirements, ISO 27001 certification can reduce your chances of cybersecurity threats. There are a few ISO 27001 certification requirements in particular that serve dual purposes by signifying a bolstered sense of security:
Risk assessments and risk treatment plans: A risk assessment is the practice of running through security-related scenarios and their implications with a risk treatment plan developed for each scenario. These assessments and treatment plans help your company stay prepared for the most likely information security disasters.

Internal security audits: ISO 27001 compliance requires regular internal audits of your networks and security processes. You must have impartial auditors and a defined reporting process to successfully complete the audit, as well.

Mandatory management review: ISO 27001 requires that your management team perform regular ISMS reviews and create a follow-up report with corrective actions for any security issues. The corrective actions are then assigned to relevant departments to ensure that your organization stays ISO 27001–compliant. This process keeps your ISMS processes up to par and helps your entire team keep security front and center.

ISMS scope outlined: You must detail what areas of your organization are covered by the ISMS. By doing this, you'll keep your management team, employees, and other stakeholders abreast of your ISMS coverage and how any parts of the business are impacted.

Access management strategy: An access management strategy details what privileges are given to which users, why users need certain privileges, and how your company will prevent unauthorized access. An access management strategy should also lay out how your company will respond if there's any external breach or incident involving internal unauthorized access.
ISO 27001 certification is a team sport. To stay certified, your company will need to perform ongoing internal audits to look for and assess potential threats, and take action when necessary. It requires hypervigilance and leaves little to no room for error, so it's critical that your entire organization is aligned.
ISO 27001 certification simplifies compliance with other regulatory requirements
Various ISO 27001 certification requirements overlap with other regulatory guidelines. If you have ISO 27001 certification, you are likely to have an easier time securing compliance with these regulations:
NIST cybersecurity framework: The National Institute of Standards and Technology (NIST) cybersecurity framework, like ISO 27001, focuses on ISMS. The NIST cybersecurity framework focuses even more specifically on risk management. If you're already auditing for threats via the ISO 27001 standard, you'll be well on your way to being compliant with this framework, too.

Sarbanes-Oxley Act: The Sarbanes-Oxley Act was passed in 2002 to separate investors from being liable for any fraudulent financial reporting committed by organizations. The Sarbanes-Oxley Act requires that bookkeepers and accountants keep accurate records and utilize specific reporting methods, all of which are touched on by ISO 27001, too.

General Data Protection Regulation (GDPR) compliance: The GDPR requires that any companies operating in the European Union follow certain data-protection standards. ISO 27001 doesn't cover every point of the GDPR, but it does offer a solid framework for companies looking to be GDPR-compliant by covering data security, data integrity, risk assessment, record keeping and storage, and general data protection guidelines.
If your organization needs to comply with a certain regulation or standard, check for overlap with the ISO 27001 certification. There's a good chance overlap exists, which could translate to a quicker time securing additional certifications.
ISO 27001 certification can reduce need for customer audits
It's not unheard of for customers to request an audit of your systems. This is especially true before you sign a deal with a new customer. ISO 27001 certification is a shining badge of credibility and trust, telling your customers you're up to date on the latest information security best practices.
The practices required to maintain ISO 27001 certification inherently make your company more attractive to customers from a security standpoint. A certification badge can help to ease certain fears that may prompt the need for frequent customer audits.
When you earn your ISO 27001 certification, be sure to feature the badge in a prominent location. The homepage of your website is a great spot, along with your footer and other high traffic web pages associated with your company. Your sales team should also mention your ISO 27001 certification in pitch decks and calls with potential clients to drive home your company's security.
Pass your ISO 27001 certification audit with confidence and ease
ISO 27001 certification requires extreme attention to detail and ongoing compliance with standard requirements across all members of your organization. A secure eQMS solution can simplify the process of obtaining and maintaining ISO 27001 certification.
With the right QMS, you can easily make up-to-date training materials available to your team. You can then track who's working on which pieces of your ISMS processes and track training activity progress.
Managing risk throughout the product lifecycle, especially when changes occur, is a critical component of ISO 27001. With Greenlight Guru's QMS software and our Halo℠ solution, you can predict the impact of any change while reducing the risk of missing something through AI and ML technologies.
See for yourself how a QMS can make the ISO 27001 certification process easier by getting your free personalized demo of Greenlight Guru →
---
Looking for a design control solution to help you bring safer medical devices to market faster with less risk? Click here to take a quick tour of Greenlight Guru's Medical Device QMS software