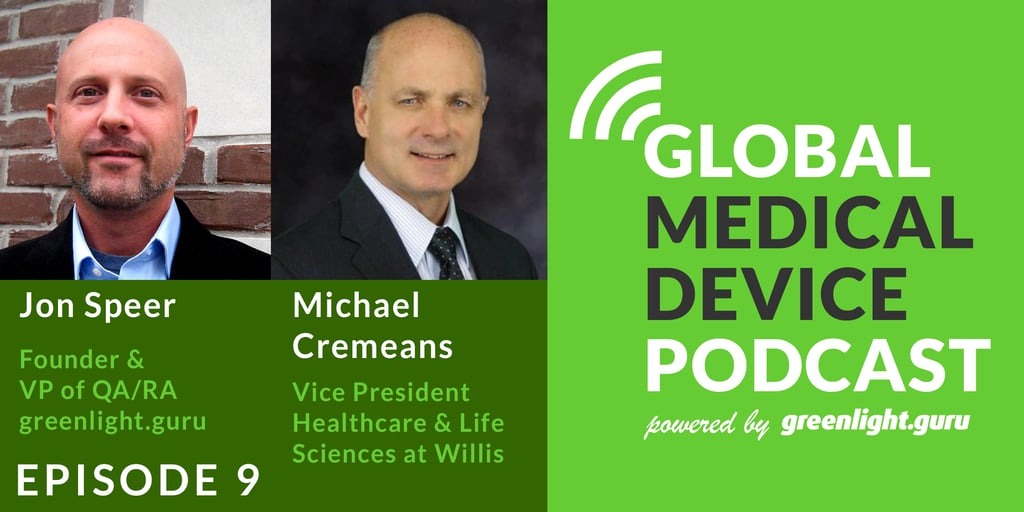 In episode #9 of the Global Medical Device Podcast we're joined by Mike Cremeans. Mike is the Vice President in the Healthcare and Life Sciences practice at Willis (the third best insurance broker in the world). His main function is that of a risk strategist, for FDA regulated organizations worldwide.
LISTEN NOW
Like this episode? Subscribe today on iTunes or SoundCloud.
He also is the man behind Willis' Life Sciences Twitter account, which is actually how we met, so be sure to check out some of the great content he shares over there at @WillisLifeSci.
Mike's passion is helping leaders of highly regulated organizations to identify and navigate risks so they can focus on strategically growing their businesses.
Mike has been doing medical device work for about 20 years. He has some great stories stacked up from all his years in the field, and he was more than happy to share a great deal of it with us, along with some key pieces of knowledge, as well.
For instance, he tells us his top two pieces of advice for a company that's pursuing bringing a product to market, but isn't currently engaged in some kind of enterprise risk activity.
Today's topics include:
An overview of Mike's role at Willis and what they do for medical device companies

How he helps people identify, quantify and manage their risks

The horror story of a company that didn't engage in risk management

ISOs you should be checking out and their predecessors

Striving to always put out an amazing product

The importance of a disaster plan

"Common risk language"
"The principals involved with product risk management are similar or maybe even the same principles that you're employing from an enterprise risk management." – Jon Speer
---
About The Global Medical Device Podcast:

The Global Medical Device Podcast powered by greenlight.guru is where today's brightest minds in the medical device industry go to get their most useful and actionable insider knowledge, direct from some of the world's leading medical device experts and companies.
Like this episode? Subscribe today on iTunes or SoundCloud.
---
---