Fast-growing software company to host grand opening event to celebrate company's investment in growth in Indianapolis tech community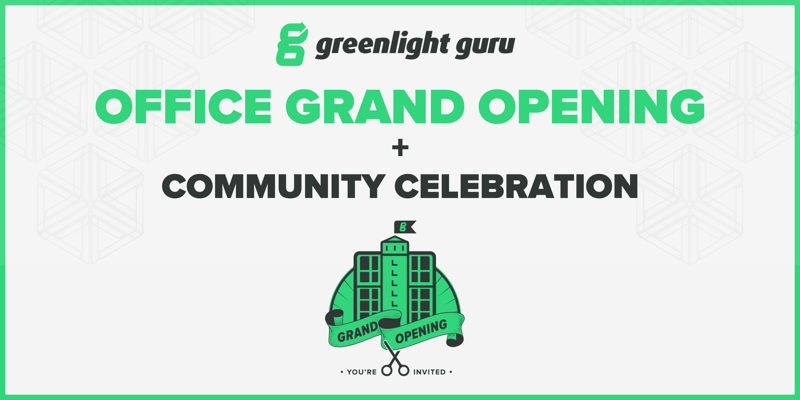 INDIANAPOLIS — September 23, 2021 — Greenlight Guru, pioneer of the only dedicated Medical Device Success Platform (MDSP), will host a grand opening celebration today to its new Indianapolis headquarters. The premier event will include a ribbon-cutting ceremony, live music and food trucks, with remarks from Governor Eric J. Holcomb, Indianapolis Mayor Joe Hogsett and Greenlight Guru CEO David DeRam.
After more than a year and a half of operating remotely, Greenlight Guru is excited to safely welcome local employees back to a brand-new office space, which will accommodate 180 employees. Since the beginning of COVID-19, Greenlight Guru has more than doubled its headcount, aiding in the growth and development of the Indianapolis tech community. While the new headquarters is located in Indianapolis, the hybrid work culture has been embraced company-wide.
"The growing tech industry has become Indiana's not-so-secret weapon anymore, helping other innovative entrepreneurs realize their dreams and along the way, creating quality career opportunities for Hoosiers," said Gov. Holcomb. "I'm proud to celebrate Greenlight Guru today and every day they continue to break down barriers and help take our medical device industry to the next level."
"Greenlight Guru was able to grow during a time when many businesses were struggling, which was critical for our customer's success and the fight against COVID-19," said David DeRam, CEO at Greenlight Guru, "Throughout the entirety of the pandemic, our team has continuously worked hard to support our mission of improving the quality of life. We are so excited to invest back into our employees and the Indianapolis community by providing them with access to our new headquarters."
The Indianapolis tech community is invited to attend the grand opening event on Thursday, September 23, 2021today, from 4:30 to 6:30 p.m. at the new Greenlight Guru headquarters, located at 601 S Meridian St. Suite 500, Indianapolis, IN. 46225.
Today's event follows the recent announcement of Greenlight Guru's $120 Million Strategic Growth Investment from JMI Equity, which will enable Greenlight Guru to accelerate product development efforts, rapidly expand its product capabilities across the patient-centric value chain, and support significant global growth. Greenlight Guru was also named the QMS software for the National Institute of Health (NIH) Rapid Acceleration of Diagnostics (RADx) Tech program, led by the National Institute of Biomedical Imaging and Bioengineering. This program aims to improve the speed of innovation in the development, commercialization and implementation of technologies for COVID-19 testing. Today's event also comes four years following Greenlight Guru's announcement to grow its footprint in downtown Indianapolis by adding 120 employees by the end of last year.