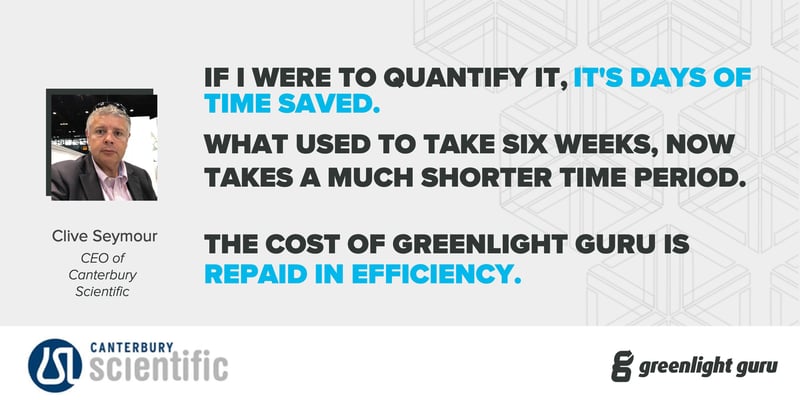 The IVD market reaches into all corners of the world, and for many device companies, this niche product is often characterized by operating in multiple regulatory jurisdictions.

This is the case for Canterbury Scientific, a New Zealand-based IVD company with a global client base. For them, managing several sets of regulatory requirements also means needing to have a solid QMS in place to help them keep abreast of quality and regulatory requirements.
When CEO, Clive Seymour came onboard a few years ago, he found a QMS that worked but had several challenges and inefficiencies associated with it. With a robust QMS being a necessary foundation of their work, Clive and the team set out to find a streamlined solution.
Canterbury Scientific: developing innovative and effective In-Vitro Diagnostic products
The team at Canterbury Scientific has quite the experience in the medical device world. The company was established in 1985 in Christchurch, New Zealand, where they are still headquartered. Now, Canterbury Scientific is a leading global OEM supplier of high-quality, stable IVD Controls and Calibrators for diabetes and hemoglobinopathy assays.
With around 25 employees, Canterbury Scientific has established a global footprint with customers from around the world. This means that they must know and adhere to several different sets of regulations, including FDA, EU MDR and IVDR.
Canterbury Scientific has found success bringing its IVD products into several different markets around the world. They have obtained and maintained: 510(k) clearances, CE Marks and ISO 13485:2016 certification. Typically, their regulatory plan is tailored to meet the regulatory requirements of the regions in which their customers are located. They often have drop-ship customers in key parts of the world, who then act as suppliers of the devices into their nearby markets. Canterbury Scientific helps those customers comply with the regulations as part of their service.
As CEO, Clive Seymour came into the business with a global background in life sciences at the VP and EVP level. He has been able to successfully integrate this experience into the business's quality and regulatory system, becoming an advocate for improvements and is actively engaged in the management of the QMS.
Experiencing the limitations of a paper-based QMS
Since the early 2000s, Canterbury Scientific has received a number of 510(k) clearances and CE Marks for their products in addition to obtaining ISO 13485 certification and recertification to the latest 2016 version of the standard.
Looking back, Clive describes the QMS they were using at the time as "a pretty good QMS, but very paper-based." Clive describes the paper-based system as presenting very traditional problems which were very frustrating for him as CEO. Problems included issues with checking on progression and timeline management for Nonconformances and Change Controls, with often extended cycles of checking the documents and redistributing them if a correction needed to be made.
Clive recalls "we'd have folders with 40-50 SOPs and other folders with the best part of 250 work instructions. Every time you updated something, you'd have to send the folders around the whole building to get signed." Keeping track of all documents as they progressed through reviews and updates was a challenge requiring constant quality team involvement.
The most impacted team was manufacturing, with the majority of SOPs and work instructions being manufacturing-based. Canterbury Scientific is also regularly audited on-site by its main clients, as well as certification and notified bodies. "Document control is crucial to the business," Clive says, "Change and version control was a constant challenge for the company."
The Science, Design and Development team were also heavily impacted, with design history files and design manufacturing files needing updating. The outdated quality management approach required hard-work and resources just dedicated to keeping hefty files up-to-date.
Catalyst for QMS change
"We had a system, the system worked in that we had our ISO 13485 certification, but it wasn't a system that you'd consider in the 21st Century to be appropriate going forward," says Clive.
This realization sparked the need for change with their quality solution as they needed a system in place that would scale with their growth as an organization and with the regulatory requirements. "As we went through our entire system, every SOP and every instruction to see what needed to be cleaned up and rewritten. In the middle of this, ISO 13485:2016 came out, so we had to be re-certified," he says.
This was the catalyst that led them to begin looking for a quality system that would allow them to monitor everything closely, keep tabs on every nonconformance and be able to easily find any SOP or instruction. "We had the realization that a professional quality management system was our foundation for success and that ultimately, we needed to go with an electronic solution," Clive says.
Discovering the electronic QMS solution from Greenlight Guru
Canterbury Scientific shopped around for an electronic QMS and found a couple of options, including Greenlight Guru. Clive says that in the end, Greenlight Guru beat out the other solutions they were looking at because:
The other system was just too big. It had too many parts they would never use. Clive wanted their system to focus on what they needed and to be scalable.
Greenlight Guru is medical-device-focused and meets all the regulatory needs that they must meet.
At the time, Greenlight Guru was working on integrating training management. (This has since been released!)
Greenlight Guru had a friendlier pitch, with an understanding and willingness to work with different international requirements.

"It is important to work with a partner who is sympathetic to our own needs,"

says Clive.
Streamlined implementation and immediate value from an MDQMS
Clive says he had anticipated they might find it challenging to migrate to Greenlight Guru but was pleasantly surprised at how smoothly it went. They consulted Medical Device Guru, Taylor Brown, for guidance in making this switch the easiest way from their paper-based system, at a pace that would best fit their timeline and business objectives.
Canterbury Scientific took a two-phase approach, moving SOPs, work instructions and relevant documents from their QMS to the online Greenlight Guru platform in the first phase. The second phase has been a focus on an enhanced internal audit approach to systematically improve documentation and embed the system throughout all functions in the company.
The company found that uploading documents went seamlessly and that version control was in place immediately. They quickly established automated processes for their quality events and change orders.
The biggest challenge during implementation was getting everyone trained and up-to-speed on the new system in place. Some people needed more help than others - a typical human response where people aren't fond of change! However, the team was won over when they saw how easy everything was, including the auto-assigned tasks, that disappear when checked off.
"There's a visceral satisfaction to getting things done and having them removed from your dashboard," says Clive. "People like to see and feel that they're making progress."
Now, logging into Greenlight Guru is the first step in their daily routines. They are reminded to check for any to-dos that are assigned to them, so they always know where they stand.
Simplifying audits and creating new efficiencies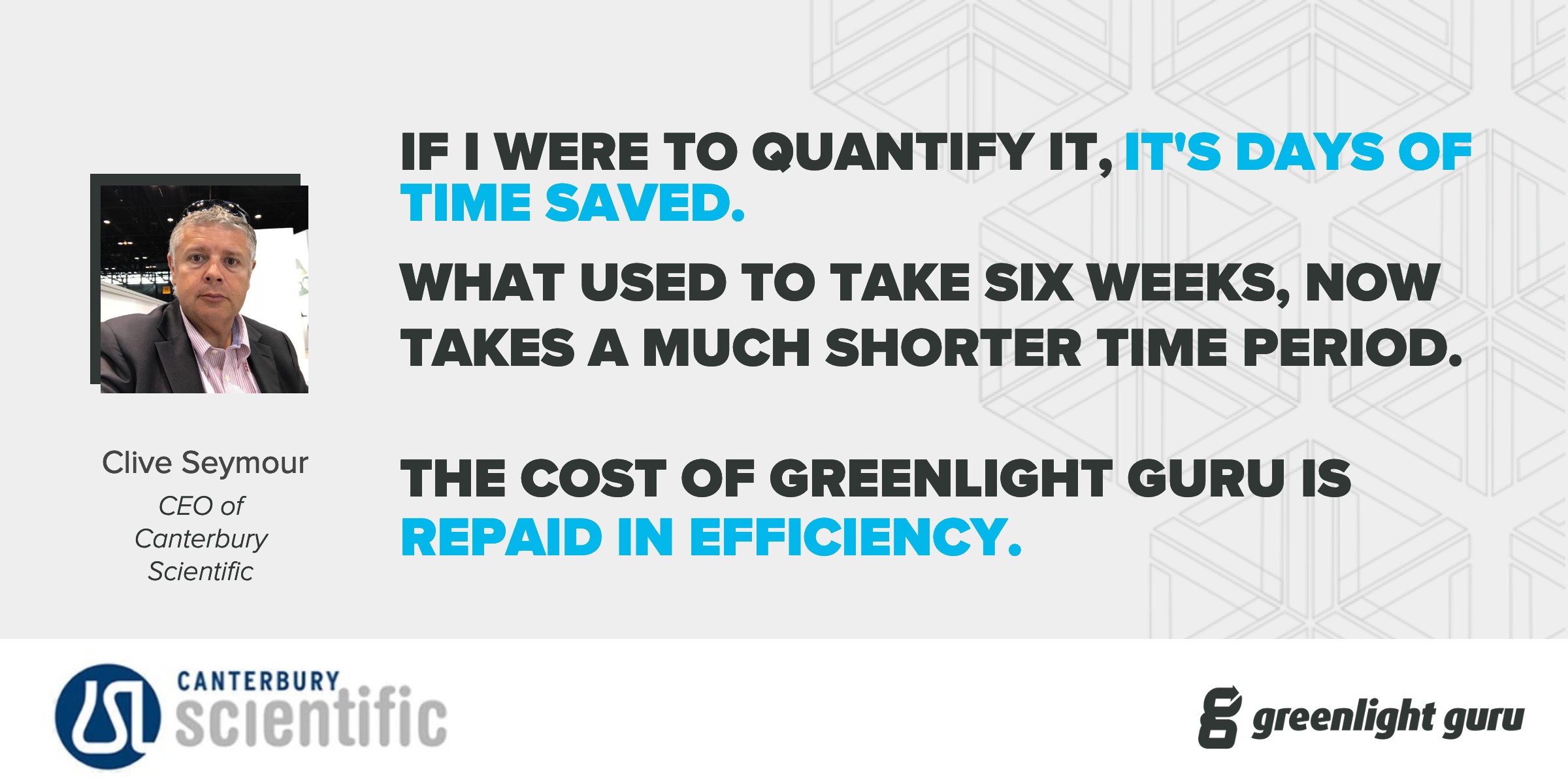 "If I were to quantify it," Clive says, "it's days of time saved. What used to take us six weeks takes a much shorter period of time. In terms of cost, I'd say anecdotally, in the very least what we pay to have Greenlight Guru is repaid in efficiency."
Canterbury Scientific has multiple auditing requirements through their customers and the regulatory bodies they conform with. "We've done two full audits since COVID without the person being in the building, thanks to being able to give them access to Greenlight Guru," Clive says.
Murtuza Bohari, Canterbury's Quality and Regulatory Manager, shared that a recent customer audit of theirs went smoother than expected. The audit, which was meant to be for four days, was wrapped up in just two. The auditor expressed that it was the most efficient remote supplier audit she has experienced since COVID.
"Internal audits are also much faster because you don't have to look around for the documents. As an internal auditor, you can go in during a quiet afternoon, pull all the info you need, have meetings with those you need to talk to, and get through it quickly. Last year was the first time we were able to complete every single internal audit on time, before the end of the year."
During a regular working day, the team has found that Greenlight Guru significantly improves their quality processes with automated tracking and tasks. By providing online access in the lab, they can easily access information in the moment, make decisions more quickly, and overall, save a lot of time.
Recommending Greenlight Guru: A flexible, yet regulatory-compliant system
Clive says they have and continue to recommend Greenlight Guru to other IVD companies. "The system is logical and can be scaled to fit your existing processes," he says. Canterbury Scientific appreciates the flexibility of the system while knowing that the workflows keep them aligned with the relevant regulations. "We are confident we aren't making any errors as we go," he says.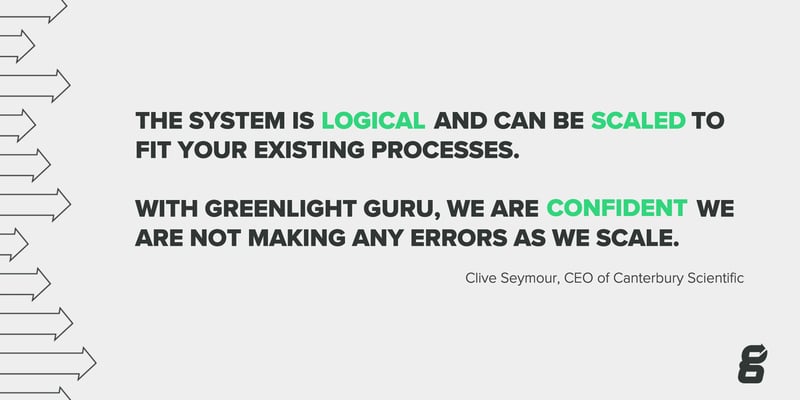 Importantly for companies like theirs, Greenlight Guru isn't too overwhelming, unlike some of the general-purpose QMS vendors that serve both the medical device and pharmaceutical industries. "It filters away the unnecessary information and focuses on what the user needs to see and take action on," says Clive.
As a company, they have a mantra to "always go back to the regulation." Greenlight Guru helps to keep the right information at their fingertips so that they maintain a quality focus. Operating globally and maintaining compliance is now second nature for their team with a scalable, compliant solution in place.
---
To learn more about implementing a scalable QMS that streamlines compliance for both medical device and IVD companies, schedule your free personalized demo of Greenlight Guru here.