The new MDR will affect all Medical Device manufacturers.
The availability of the text for the new European Medical Device Regulation allows manufacturers to start the process of assessing the impact it will have on their activities, and what they will need to do to be compliant with the revised requirements.
The MDR will overhaul some of the basic principles under which manufacturers have been working under the current MDD.
Implementing the MDR requires a structured approach, since the transition to new MDR CE certificates can last several years.
Join us for this free, 90 minute webinar presented by our guest Dr. Gert W. Bos, where he will be sharing with you a step-by-step practical approach to implement an EU-MDR compliance program.
Specifically, you will learn: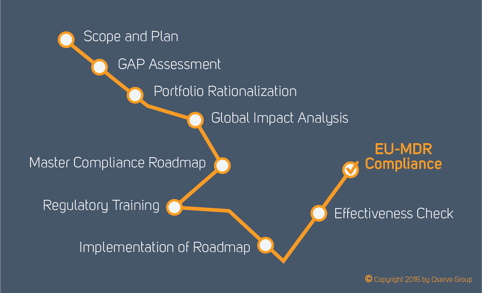 *Note: Limited live seats available.
Who Should Attend:
Medical Device Executives and CEOs

Regulatory Affairs Professionals and Management

Quality Professionals and Management

Clinical Affairs Professionals and Management

R&D Engineers and Management
About the Presenter:
Gert has 21 years of experience in life sciences (devices and pharma), in university, industry as well as in four Notified Bodies.
His last notified body roles were Head of Regulatory and Clinical Affairs of BSI Medtech and Head of Notified Body at BSI-Germany (NB0535). He has been president of the Notified Body association TEAM-NB, and vice-chair of the Medical Notified Body forum NB-Med in Brussels.
In these roles for many years he represented notified bodies in a.o. the Clinical Investigation and Evaluation Group (CIE), Medical Device Expert Group (MDEG) and the MDEG workgroups on animal tissue, on MRA's, e-labeling, EUDAMED and on IVD's, as well as the IMDRF workgroup on Regulated Product Submissions and Table of Content.
In addition, he served as NB-representative at EMA/CAT and Medical Device Collaboration group. He is a founding board member of the Dutch RAPS chapter.
---