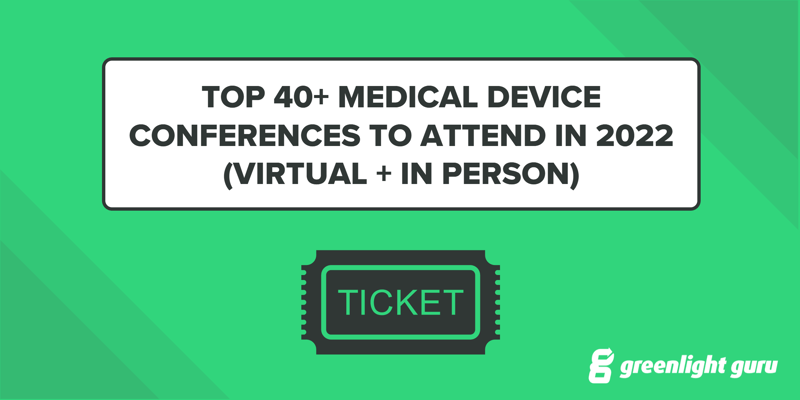 Attending the right conference can be a game-changer for those working in the medical device industry.
You may strike up a new business partnership, establish new network connections and, of course, acquire new knowledge about medical device, quality, regulatory and other industry related news and trends that can help you further your career and add value to your company.
In this blog post you will find a list of top medical device conferences, both virtual and in-person, taking place in 2022. This list includes some events we regularly participate in and others that come highly recommended by our trusted partner network.
Whether you're ready to resume attending in-person events or you plan to join virtually, It's time to pull out your calendar planner and decide which medical device conferences you will be attending in 2022.
FREE DOWNLOAD: Get a printable schedule of all 2022 conferences that you can save and reference at a later date (or share with a colleague) by clicking here.
June 6-8th, San Diego, ca
Greenlight Guru's inaugural conference, True Quality 2022, is designed for emerging companies to take quality to the next level at their organization. Whether you're a CEO looking to grow faster or navigate a new market, or a young QA/RA professional learning to master and execute closed-loop traceability, there's a seat at the table for you.
Through educational sessions, intentional networking, and engaging activities the status quo of treating compliance as a checkbox activity will disappear and medical device leaders will emerge, connect, and gain inspiration. Get your ticket at the lowest price now.
JANUARY 13 - 16, SAN FRANCISCO, CA
J.P. Morgan's annual healthcare conference is a banner event in the industry. Heading into its 40th year, the conference is the largest and most informative healthcare investment symposium in the industry.
At the time of writing this, keynotes have not been announced, but they're usually of high quality. Past speakers have included Bill Gates, Joe Biden, and Anne Wojcicki. You can also expect to find thousands of investors from around the world, and companies ranging from startups to those with more than $300 billion in market cap.
FEBRUARY 8 - 9, LONDON, UK + VIRTUAL
The 8th LSX World Congress gathers the founders and CEOs of innovative start-ups through to healthcare giants, and everyone in between. It represents the breadth and depth of the cutting-edge research and technology driving the advances in the industry right now and in the near future.
It is an industry-leading gathering with qualified 1:1 partnering at its core, connecting the biotech, healthtech and medtech industry c-suite with the sector's most active investors, pharma and health technology BD&L teams, R&D leaders, KOLs and top tier service companies who are driving the sector forward.
MARCH 1 - 2, TAMPA, FL
The Life Science Women's Conference (LSWC) creates an environment where women working or desiring to work in all areas of life science companies and academia can gather to network and collaborate with other women with regard to entrepreneurship, professional development, inspiration, funding, career enhancement, scientific and technical updates .
By identifying and working together to remove some of the obstacles that women working in the life sciences encounter, we can alleviate some of the human resource and talent shortage that these industries face, as well as help ensure that women can reach their full potential. Men are also welcome.
MARCH 6 - 9, MIAMI BEACH, FL
ViVE merges the leadership of CHIME and the digital marketplace of HLTH to create a technology event focused on the business of transformation in healthcare.
We're bringing together C-suite executives, senior digital health leaders and buyers, health startups and investors, government and solution providers to advance healthcare.
MARCH 8, LOS ANGELES, CA AND VIRTUAL
The event provides a unique opportunity for inventors, investors and industry executives to establish new relationships for furthering innovation in this field. The conference will feature exciting panels that highlight recent developments and cutting edge technology, there will be a demo track featuring local innovations in medtech and partnering opportunities that will allow attendees to set up meetings with each other and UCLA faculty powered by Jujama app.
MARCH 14 - 18, ORLANDO, FL
HIMSS is an annual conference that brings together 40,000+ health IT professionals, clinicians, executives and vendors from around the world. You will have the opportunity to learn, meet and network over a range of health information and technology topics.
The event is known for its world-class educational programming, with hundreds of highly vetted sessions from industry leaders, renowned keynote speakers, specialty programs to meet distinct needs, and hands-on preconference symposia and forums.
MARCH 15 - 18, DANA POINT, CA
This event has a single mission: to bring together the most innovative medtech startups, active investors, and strategic buyers to deal-make, collaborate, and forecast the future of medtech.
The event showcases pre-screened venture backed medtech startups that are seeking exposure to major strategics, venture capital and other investors. Attendees include major strategics such as Johnson & Johnson, Medtronic, Boston Scientific, Abbott, GE Healthcare amongst others.
MARCH 16 - 17, COVENTRY, UK
There will be a comprehensive series of technical presentations taking place over the two days. Presented by experts in their field with thought-provoking guest speakers, all providing an insight and knowledge for medical device manufacturers, their engineering teams and senior executives, that can be taken and integrated into next generation and new medical devices.
MARCH 28 - 30, CHICAGO, IL
MedCity INVEST unites active investors with corporate business development executives to facilitate investment opportunities with the most promising healthcare startups. More than 300 VCs, strategics, prominent industry executives, innovative thought leaders and more will attend.
MARCH 30 - 31, BRUSSELS, BELGIUM
The 5th annual EU Medical Device and Diagnostic Quality Management Conference is a multi-stream event aimed at building excellence in quality management. This year's event will feature attendees from MedTech companies and will provide a wealth of knowledge and advice on: emerging global trends, regulatory challenges, and effective product quality and supplier quality management processes to avoid non-conformance.
APRIL 4 - 6, PHOENIX, AZ
Medtrade West, formerly Medtrade Spring, is the second largest (Medtrade is the largest) tradeshow in the U.S. focused exclusively on the home medical equipment market. Medtrade West is designed to give today's providers the highest quality educational, networking and advocacy opportunities and the largest selection of HME products under one roof.
APRIL 11 - 14, MINNEAPOLIS, MN
The Design of Medical Devices Conference provides a national forum to bring together top medical device innovators. In its 21st year, this MedTech conference includes industry experts as keynote and featured speakers, plus four days of workshops, symposiums, scientific poster sessions and technical/scientific sessions.
APRIL 12 - 14, ANAHEIM, CA
MD&M West is North America's largest MedTech event. It is described as the place "where serious professionals find the technologies, education, and connections to stay ahead in the global medical manufacturing community."
From 3D printing and biomaterials to robotics and digital health, MD&M West is the largest medtech expo for suppliers and buyers to discover innovation, engineer new technology, and build life-changing medical devices.
APRIL 26 - 28, DUBLIN, IRELAND
This conference will offer a broader and deeper take on the issues and concerns driving the medical device industry today. In a mix of keynote presentation and plenary sessions, bring together some of the leading voices in today's medtech world to provide both insight and opportunity.
MAY 3 - 5, STUTTGART, GERMANY
MedtecLIVE with T4M is where product developers and purchasing managers from distributors and OEMs come together with the leading suppliers of medical technology in Europe. The event alternates between the two most important medical technology regions in Germany and covers the entire supply chain. The trade fair is accompanied by a comprehensive supporting programme organised in partnership with national and international associations and clusters that reflects the most important issues and trends in the sector. The event is complemented by precisely curated digital services for exhibitors and visitors.
MAY 3 - 5, BARCELONA, SPAIN
The MedTech Forum is the largest health and medical technology industry conference in Europe and a key event since 2007. Join industry leaders, leading innovators and investors to discuss the future opportunities in the medical technology sector.
MAY 3 - 6, CINCINNATI, OH
FDA/Xavier's MedCon brings the global medical device products community together to openly discuss the most pressing issues facing our industry. Influence decisions and have your voice heard as you interact with leading FDA officials and field investigators, along with global industry experts.
MAY 3 - 6, ANAHEIM, CA AND VIRTUAL
This is ASQ's flagship conference and attracts more than 2500 attendees from 45+ countries. The aim is to gain knowledge, improvement methodologies, quality tools, best practices, and networking contacts. WCQI 2022 explores the symbiotic relationship between human and scientific aspects of quality management. Sessions addressing soft skills, cultural consciousness and leadership are offered alongside practical presentations outlining leading-edge applications and technologies, helping to bridge the gap between emotional and scientific intelligence and advance the quality community's global standing as a comprehensive resource for progress, innovation, and excellence.
MAY 10 - 11, BOSTON, MA
DeviceTalks Boston will unite medtech's most innovative professionals find the quickest way to clear troublesome bottlenecks in these critical stages such as innovation & funding, prototyping & product development, manufacturing & sourcing, regulatory, reimbursement & market development and engineering tools & technology. Co-located with the Healthcare Robotics Engineering Forum and the Robotics Summit and Expo, DeviceTalks is an essential meeting for entrepreneurs, engineers, and other professionals developing the latest tools used to treat patients and cure disease.
MAY 10 - 12, SAN DIEGO, CA
10x Medical Device Conference is the cross-functional event where the entire medical device ecosystem convenes to grow your skills, network, and profit. It's designed to foster strong professional relationships among medical device players eager to learn smarter ways to do things with industry-leading resources.
This medical device event is geared equally for senior and junior level professionals in the medical device industry.
MAY 24 - 26, NEW YORK, NY
The Medtech Summit is dedicated to accelerating the path to Medtech regulatory compliance. Attendees will benefit from Competent Authority, Notified Body and industry insights across 7 focused events: EU MDR, IVDR, EU Law, PMS, Clinical, Global Market Regulations, and Biocompatibility.
MAY 25 - 27, ATLANTA, GA
Southeast Life Sciences envisions a world-class ecosystem for life sciences in the southeast. Our mission is to cultivate, convene, and connect the Southeast entrepreneurial ecosystem to foster the public good, and life science innovation & investment across the region.
JUNE 3 - 6, SAN ANTONIO, TX
AAMI is the premier conference for healthcare technology management. It is attended by more than 2,300 biomedical equipment technicians, clinical engineers, and others who manage or support medical devices for healthcare institutions.
Educational sessions focus on practical solutions for the challenges that attendees face in their work every day. The Expo provides an opportunity to see the latest technologies from many of the world's leading medical-equipment manufacturers and service providers.
JUNE 6 - 7, MINNEAPOLIS, MN
DeviceTalks Minnesota unites this dynamic Medtech region bringing together entrepreneurs, engineers, manufacturing managers to discuss every challenge – and opportunity – facing professions in the sector.
JUNE 8 - 9, BIRMINGHAM, UK
Med-Tech Innovation Expo is the UK & Ireland's leading event for medical design and manufacturing technology. Experience live demonstrations of the latest machines, technology, products and services while networking with 4,000+ designers, engineers, innovators and manufacturers from across the medical and healthcare sector.
JUNE 14 - 16, CHICAGO, IL
OMTEC is the world's only conference exclusively serving the orthopedic industry. With 15 years under our belt, we are honored that OMTEC is now recognized internationally as a "must attend" event. A loyal contingent of procurement, supply chain, operations, research and development and executive-level attendees, as well as business development, regulatory, quality and clinical affairs professionals, unite to learn, debate, share, connect and make things happen.
JUNE 14 - 16, COLUMBUS, OH
Early stage Medtech companies are expected to navigate the complex process of bringing an idea into reality, but very seldom do they have the expertise, experience, or resources to ensure success. If you are founder faced with this dilemma, this is for you.
Project Medtech and our Network of industry thought leaders have organized an interactive event to help founders build a successful medical technology company.
JUNE 20 - 24, DUBLIN, IRELAND AND VIRTUAL
The Medtech Summit is dedicated to accelerating the path to Medtech regulatory compliance. Attendees will benefit from Competent Authority, Notified Body and industry insights across 7 focused events: EU MDR, IVDR, EU Law, PMS, Clinical, Global Market Regulations, and Biocompatibility.
JUNE 21 - 22, BOSTON, MA
The annual, LSX USA Leaders Forums are high-caliber, senior executive, virtual forums providing the education, strategies and solutions that life science executives need to enable more effective investment, planning and strategic growth within their businesses.
The biotech, medtech and healthtech leaders forums are strictly for CEOs, Founders, Co-Founders or Presidents of their respective businesses. The pharma leaders forums are for global / regional heads of appropriate BD or Digital functions.
JUNE 27 - 30, NATIONAL HARBOUR, MD
WHCC22 brings together global thought leaders and key decision-makers from all sectors of the health care ecosystem to connect, learn, and share best practices in an elite networking forum resulting in an exchange of valuable strategies. The conference features C-level keynote discussions with many people in attendance.
AUGUST 31 - SEPTEMBER 2, SHANGHAI, CHINA
The 17th Medtec China is a premier manufacturing and sourcing event for medical device manufacturers in China. Leading suppliers from many countries throughout the world attend and the target visitor profile comprises senior management, R&D engineers, production engineers and QA professionals who are searching for components, materials, technologies and solutions for their production lines.
SEPTEMBER 11 - 13, PHOENIX, AZ
RAPS Convergence is the largest and most well-recognized annual gathering of regulatory professionals, scientists, and innovators in the world. Convergence brings together representatives from industry, global regulatory bodies, and research, academic and clinical organizations that are directly involved in managing the regulatory process and aligning science, regulation, and business strategy.
Convergence is designed to educate and empower professionals about the ever-evolving healthcare product regulatory environment within an interactive forum that facilitates community exchange, connections and knowledge sharing.
SEPTEMBER 19 - 22, LONDON, UK
This event has a single mission: to bring together the most innovative medtech startups, active investors, and strategic buyers to deal-make, collaborate, and forecast the future of medtech.
The event showcases pre-screened venture backed medtech startups that are seeking exposure to major strategics, venture capital and other investors. Attendees in include major strategics such as Johnson & Johnson, Medtronic, Boston Scientific, Abbott, GE Healthcare amongst others.
SEPTEMBER 20 - 21, GRENOBLE, FRANCE
MedFIT is your opportunity to connect with international key innovators in the MedTech, diagnostic and digital health sectors.
As the leading European partnering event, MedFIT provides the ideal environment to help industry players to source early-stage assets, to facilitate the emergence of collaborative projects between big players, public research institutions, start-ups and SMEs, to increase licensing opportunities, to obtain funding and to facilitate market access.
SEPTEMBER 21 - 22, GALWAY, IRELAND
Ireland's premier Medical Device Design and Manufacturing Conference
The two-day Conference features presentations by leading international medical device experts with thought-provoking guest speakers, all providing an insight on cutting-edge topics for medical device manufacturers, R & D and design engineers in the rapidly evolving Irish and global device marketplace.
SEPTEMBER 28 - 29, BOSTON, MA
BIOMEDevice Boston connects you with more than 4,500 engineers and executives — and more than 450 leading suppliers — across New England's thriving MedTech industry.
In partnership with the Massachusetts Medical Device Industry Council (MassMEDIC), BIOMEDevice Boston is a powerful end-to-end industry showcase covering today's emerging biomedical trends and innovations. Explore the full spectrum of cutting-edge solutions you need to make faster, cheaper, a
SEPTEMBER 27, BARCELONA, SPAIN
The MedDev Day, organized by LS Academy will once again serve as a central meeting place for the medical technology industry, bringing together lecture forums, interviews, workshops and networking opportunities. The event will be 360-degree overview of the evolving context of medical devices, in-vitro-diagnostics and software.
nd smarter medical products at the most comprehensive industry event in the region.
OCTOBER 5 - 7, BOSTON, MA AND VIRTUAL
The MedTech Conference will bring together the world's top medtech executives and innovators to network, conduct business, gain access to capital and share insights in an engaging digital environment.
With world-class educational opportunities and networking, diverse attendees and some top policy-makers, this is a premier event for anyone in the medical device industry.
OCTOBER 18 - 19, CHICAGO, IL
Join the discussion with over 250 of your industry peers as we explore the challenges and opportunities in medical device innovation, regulatory harmonization, compliance, digital transformation and more. Hear first-hand case studies presented by our executive speaker faculty with extensive experience driving development and process strategy excellence. Walk away with strategic insights for industry, hospital networks and regulatory bodies to collaborate together to streamline processes, optimize development, design, decrease risk, improve speed to market, reduce costs and remain compliant in a rapidly evolving landscape.
OCTOBER 19 - 20, SANTA CLARA, CA
DeviceTalks West will explore the new technologies changing how Medtech is delivered. Co-located at the Santa Clara Convention Center with the RoboBusiness Conference. Join us on October 19-20, 2022 as we explore the impact sensors and other transformative technologies will have on medtech creation.
OCTOBER 24 - 26, BOSTON, MA
In 2022, the world's top medtech executives will gather for the leading event in our industry — The MedTech Conference.
Featuring world‑class plenary speakers, cross‑cutting educational programming, valuable networking and business development opportunities, The MedTech Conference is a must‑attend event for the industry's prominent and most promising companies.
OCTOBER 27 - 28, IRVINE, CA
MedTech Innovation Forum is poised to help you discover the wide-ranging impact of innovations and what they mean for your medtech business.
MedTech Innovation Forum will feature industry experts, strategics, physicians, and entrepreneurs who have made major headway and continue to make massive strides towards an accelerated future.
NOVEMBER 2 - 3, MINNEAPOLIS, MN
Billed as the Midwest's largest Medtech event, Medical Design & Manufacturing (MD&M) Minneapolis is where serious professionals find the technologies, education, and connections needed to thrive in the Medtech community. There are over 5000 attendees and 60+ speakers.
NOVEMBER 14 - 17, DÜSSELDORF, GERMANY
MEDICA is the world's largest event for the medical sector. For more than 40 years it has been firmly established on every expert's calendar. There are many reasons why MEDICA is so unique. Firstly, the event is the largest medical trade fair in the world – in 2016 it attracted more than 5,100 exhibitors from 70 countries in 17 halls.
Furthermore, each year, leading individuals from the fields of business, research, and politics grace this top-class event with their presence — naturally alongside tens of thousands of national and international experts and decision-makers from the sector, such as yourself. An extensive exhibition and an ambitious program — which together present the entire spectrum of innovations for outpatient and clinical care — await you in Düsseldorf.
NOVEMBER 29 - 30, SANTA CLARA, CA
BIOMEDevice Silicon Valley, formerly known as BIOMEDevice San Jose, returns this winter. As Silicon Valley's must-see regional event, biotech engineers and cutting-edge companies come together to preview the latest innovation in biotechnology and the solutions that are further pushing the boundaries of the industry.
FREE DOWNLOAD: Get a printable schedule of all 2022 conferences that you can save and reference at a later date (or share with a colleague) by clicking here.
---
Looking for an all-in-one QMS solution to advance the success of your in-market devices and integrates your quality processes with product development efforts? Click here to take a quick tour of Greenlight Guru's Medical Device QMS software →