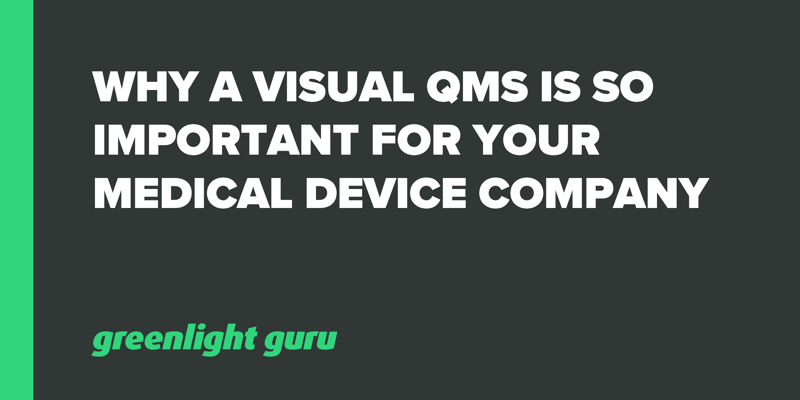 How valuable would it be to have a visual representation of your entire QMS and all of its functioning components?
That's the essence of a visual QMS and a long-standing limitation of QMS tools available to medical device companies.
Closed-loop traceability is a key feature of a visual QMS that allows medical device companies to operate more transparently and efficiently throughout the various subsystems for a better medical device quality management experience.
Without a visual QMS, achieving closed-loop traceability is a huge challenge. In fact, most non-visual QMS tools don't have the systems architecture to be able to trace information, processes, and activities, so medical device companies have had to manually manage this function for decades. That all changed with the arrival of Greenlight Guru Visualize.
For the first time ever, medical device companies can now achieve closed-loop quality system traceability through a visual QMS that's powered by machine-learning technologies to automate these connections throughout the entire quality ecosystem—all within a single, network view.
Your medical device company now has the ability to visualize your quality system like never before - here's why that's so important for both your business and your medical device:
Free On-Demand Webinar: Access the full recording & presentation slides to learn how you can achieve closed-loop traceability in a visual QMS.
What is a visual QMS?
What does a visual QMS actually mean? Well, you're probably familiar with the phrase "a picture is worth a thousand words."
This same idea can be applied to a visual QMS. The value of having a visual representation of a complex, multifaceted system helps you understand everything that's happening under the hood, so to speak, why and how it's happening, and what may happen down the line. Your team can easily and directly gather key insights about a project to make data-driven decisions that benefit both your business and medical device.
The alternative to a visual QMS is not like a picture at all, rather it utilizes a more traditional, manual approach to quality management that's based on tribal knowledge and open to conjecture. The achilles heel of a non-visual QMS is its reliance on people to manually make the connections that a visual QMS would otherwise automate for you.
When we talk about a visual QMS, a great use case is Greenlight Guru Visualize where machine learning and natural language processing technologies are embedded within the architecture of the software, enabling users to identify, interpret, and understand connections that would otherwise have been done manually.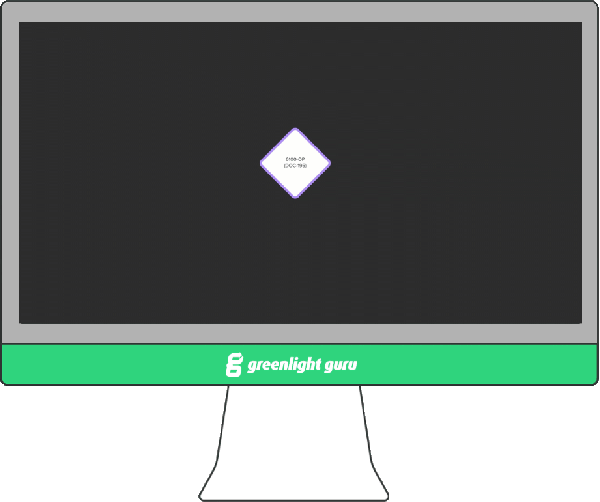 Click here to learn more about Greenlight Guru Visualize
Let's say you're designing and developing a new medical device. You go through the various stages of design and development, compiling your work into various key artifacts, such as my design history file, risk management file, etc., each stored in separate locations within your QMS.
In this example, your product has been on the market for a few months now and you've started receiving customer feedback, of which certain claims need to be investigated further. Doing so will require delving into the historical data of your design and development activities in order to pinpoint exact points in the process that may necessitate a design change.
Using a traditional, non-visual QMS to manage this process will take extensive amounts of time, effort, and resources to accurately locate the information and update all areas that will be impacted by the change.
On the other hand, what if your system could provide a visual cue that points you in the direction of where you need to focus your efforts, saving you time wasted on guesswork (and rework if that guess is wrong) and project delays? What if you had a modernized QMS solution that could show you a visual map with the path of least resistance, linking key connections for you as well as alerting you of potentially hazardous areas to avoid?
That's just one example of what a visual QMS can do and the benefits it provides to its users.
How does a visual QMS differ from other quality system tools?
A visual QMS helps you connect the dots between your subsystem processes and data easily and efficiently. It allows you to demonstrate closed-loop traceability throughout your quality system and gain better visibility over key relationships that exist within your QMS.
To further this point, take a look at the image below for a side-by-side comparison of a traditional (non-visual) QMS and a modern (visual) QMS solution:

Let's go into a bit more detail about the distinguishing qualities of a visual QMS compared to other quality system tools still commonly used in the medical device industry today.
For starters, it's the inclusion of cutting edge technologies, like artificial intelligence (AI) and machine learning (ML), that power the visual nature of a QMS solution.
Currently, there's only one medical device quality management solution (MDQMS) that incorporates these technologies into a visual QMS software. Greenlight Guru launched the world's first AI and ML recommendation engine for medical device quality with Halo℠ for Change Management, which enables predictive quality within a visual QMS solution.
For the first time ever, medical device companies can leverage predictive and visual insights from within the visual QMS, to go beyond the human capacity of what's possible with traditional QMS tools. This allows companies to discover, interpret, understand, and assess all quality data to ensure optimal outcomes for medical devices and, ultimately, patients.
You may be wondering, must these technologies exist in order to make it a true visual QMS? Simply put, QMS tools that are missing these technological capabilities do not function the same as QMS tools that are powered by these turbo chargers.
Non-visual QMS tools operate as static tools that must be manually updated and maintained by people, either outsourced or by in-house resource—both of which come with high costs and high risks—as most human-reliant things tend to be.
As a medical device company, the ultimate state has to be the ability to be proactive. Far too often the sequence of events goes like this: something happens, we learn about it, then we react. When you consider something like CAPA, I can count on one hand the number of times during my 20+ year career in medical devices when preventive action was taken before corrective action to address an issue.
We react; not because we should, but because it's what we're conditioned to do given the constraints and limitations of the tools that are being used.
There are many (avoidable) downstream effects that come from working in a reactive state, such as needing to pull resources off a project in order to address an urgent issue, rather than leaving them to their own devices, quite literally, to do the work that they're paid and want to do.
Given the increasingly competitive landscape of the medical device industry, it's never been more important than now to invest in quality tools that give teams the support they need to do their job effectively in order to produce a high quality medical device to patients.
What value does a visual QMS provide to medical device companies?
There is real value in having clear communication and oversight of your medical device operations. You shouldn't have to dig and search for key information. Just think of all the time and resources you would have saved by having the information you need in a single snapshot view?
For example, if you wanted to learn more about a particular quality event, the visual QMS of Greenlight Guru would allow you to access every component related to that event with a single click of your mouse. There's new value to be gained now that was never made possible before AI/ML technologies were incorporated into an already powerful visual QMS.
A visual QMS that offers predictive quality functions takes validation to a whole new level by providing data-driven recommendations and insights that drive efficiencies and improvements throughout the entire product lifecycle; such value may never be uncovered or actualized through the use of a traditional, non-visual QMS tool.
Additionally, all functional roles within a medical device organization will benefit from using a visual QMS. For example, training managers can streamline the entire training management process by leveraging a visual QMS that offers full visibility and control over all training activities and the way in which they're conducted, managed, and monitored.
From a supplier perspective, a visual QMS provides huge value in terms of the insights that can be driven from oversight of all activities that may be unbeknownst to you without digging. Any part, drawing, specification or document related to a quality event can be gathered into a single, detailed view to better visualize and manage the performance of your supplier relationships.
From an auditing perspective, a visual QMS offers tremendous value in being able to provide objective proof to any auditor or inspector that you're complying with the necessary requirements. The same is true for any third party firms you work with that may benefit from having clear visibility into the intricate details of your quality system.
Similar value-adds from a visual QMS can be seen in internal settings, too. A visual QMS allows you to improve efficiency of your management reviews and internal quality audits. All key stakeholders can be kept informed and up to date on all aspects of your business and the systems that are used to operate it, so that you're well prepared for anything to come.
Having a visual, detailed, data-driven understanding of your quality system data is next to none in terms of importance to your business and your ability to deliver a high quality medical device to patients.
That's the whole goal of everything we do, right? It's no longer enough for us to reinforce this mission with just words or even actions. We need to invest in purpose-built quality tools designed to help you carry out that mission by turning that goal into a reality.
Free On-Demand Webinar: Access the full recording & presentation slides to learn how you can achieve closed-loop traceability in a visual QMS.
Drive innovation and achieve true quality for your medical device with a visual QMS
A visual QMS promotes smarter, easier, and better quality management through a reimagined environment with a tangible feel where True Quality flourishes.
When you're able to visualize all aspects of your quality system and drive meaningful connections between subsystem processes, your quality management activities will improve and the eventual output will be a high quality medical device.
We stand behind our visual QMS solution, as do many satisfied users from around the world who have rated Greenlight Guru the #1 QMS provider on G2 for two consecutive years. See how you can achieve True Quality for your medical device with a free personalized demo of our visual QMS software →
---
Looking for an all-in-one QMS solution to advance the success of your in-market devices and integrates your quality processes with product development efforts? Click here to take a quick tour of Greenlight Guru's Medical Device QMS software →