Leading medical device QMS provider introduces industry-specific job board to provide companies exclusive access to top industry talent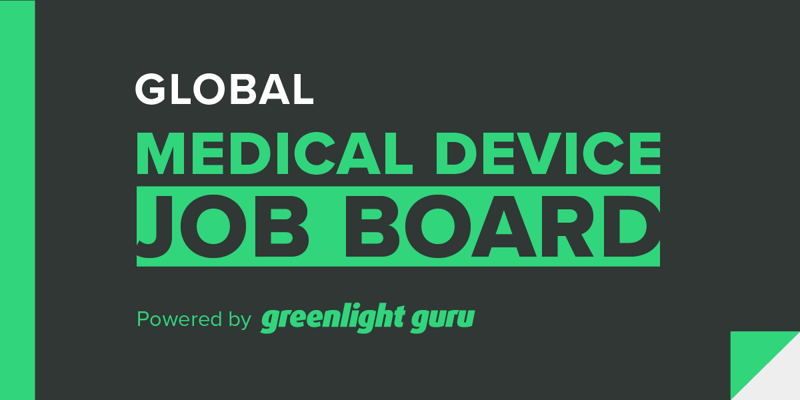 INDIANAPOLIS — June 3, 2021 — Greenlight Guru, the leading medical device quality management software platform, today announced the Global Medical Device Job Board. The industry-specific job board taps into Greenlight Guru's network of over 150,000 medical device professionals and aims to be the exclusive destination to access top talent in the medical device industry. The job board will always be free to job seekers, and hiring companies will receive their first month of unlimited job postings free.
Today, the medical device industry is rushing to develop life-saving devices that can help combat the many health crises the world is facing. Many organizations have been forced to burn resources trying to find talented engineers, product developers, quality professionals and other key hires to maximize innovation. Greenlight Guru remains committed to helping the medical device industry navigate the challenges of today, which is why, instead of inundating medical device companies with irrelevant resumes like a generic job board, the Global Medical Device Job Board offers a laser-focus to find the best professionals needed to grow a team.
"After everything we saw in 2020, we believe that one thing is abundantly clear. In the past century, there has never been a more important time for medical device professionals to get to work," said David DeRam, CEO at Greenlight Guru. "Job boards and aggregators like to boast about the number of candidates you can find on their platform, but there's one key factor they're not telling you about, candidate quality. Just like generic quality management systems, generic job boards really struggle to meet the needs of high-growth medical device companies. In a time where efficiency and success are critical, we remain committed to providing true quality software and resources for all industry professionals."
The Global Medical Device Job Board will serve as a one-stop destination for candidates and companies looking for top talent. Specific features include:
Filtering capabilities of a traditional job board coupled with the ability to sign up to receive exclusive updates about jobs that may be of interest to candidates

Share an exclusive company profile tapping a network of over 150,000 medical device industry professionals

Free, unlimited job postings for hiring companies during first 90-days
This launch follows the announcement of Greenlight Guru's Regulatory Advisory Board (RAB), a forum of world renowned medical device regulatory experts who have committed to identifying needs for further education and information industry issues and trends that will help both medical device establishments and regulators alike.
For more information about the Global Medical Device Job Board and to post your open positions, visit https://jobs.greenlight.guru.
For more information about Greenlight Guru's solutions, visit: https://www.greenlight.guru/.