Greenlight Guru Acquires CanvasGT to Dramatically Enhance Iterative Design Planning for Medical Device Innovators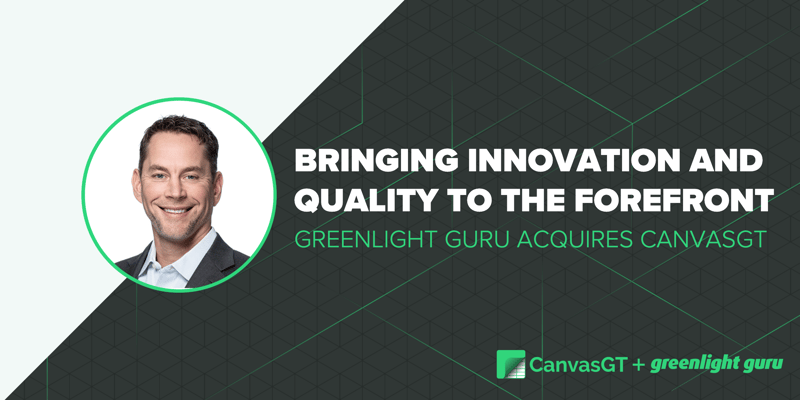 I am excited to share with our customers and the medical device community that Greenlight Guru has acquired CanvasGT.
Since our inception in 2013, Greenlight Guru has played a critical role in helping medical device companies get lifesaving products and technology to market - from complex SaMD devices to rapid at-home COVID tests and everything in between.
Over that time, we have witnessed a consistent rise in medtech innovation, from design programs at universities and hospitals to leading medical device manufacturers. The breadth of products and innovations helping us improve the quality of life has never been so impressive.
Working with so many of these companies has uncovered an opportunity to assist medical device innovators in their earliest stages of development. Too many medical device companies struggle with critical gaps across the many teams, processes, and datasets involved in bringing device innovations to market.
Currently, there is a growing emphasis on medical device design controls, founded on research from the FDA that shows 44% of voluntary recalls associated with quality problems in the market could have been prevented by adequate design controls.
For medical device innovators, design control regulations have often been misinterpreted as a process that restricts iterative design processes and contains creativity. Because of this, medical device companies tend to wait as long as possible to start formally documenting design control.
Waiting until design freeze to implement design controls or having to reverse-engineer your design history during this stage is costly, time-consuming, and turns what should be a quality activity into an administrative burden.
Teams need ways to collaborate and design following best practice frameworks that infuse quality into their products from day one. That is why Greenlight Guru has acquired CanvasGT, a visual design collaboration solution for medical device innovators.
This strategic acquisition extends the capabilities of our industry-leading Medical Device Success Platform allowing device makers to accelerate the delivery of life-changing medical devices.
Embedding CanvasGT into our Medical Device Success Platform (MDSP) will help both pre-market companies and established companies bringing new innovations to market do just that.
With CanvasGT, these teams can get their products to market faster without stifling innovation and creativity during the pre-design control phase. This visual design and collaboration solution enables teams to cross-functionally document design history, assess risk, prioritize information, and ideate medical innovation projects in one place, while seamlessly capturing design history along the way.
This alleviates the future challenges product and innovation teams face and injects quality from the beginning so that medical device innovators from around the world can focus on what they do best - creative and innovative design thinking that changes lives.
Being an integral part of a medical device's journey to market, Greenlight Guru knows the critical importance that design and development have in a company's success. By adding the power of CanvasGT to our platform and creating a more proactive approach to design history, we are fully committed to making you - and all medical device companies - as successful as possible.
I have never been more excited about the future of the medical device industry. Greenlight Guru is thrilled to welcome CanvasGT to our team and looks forward to the success that we can create together.
To learn more about the combined value of Greenlight Guru and CanvasGT, visit https://www.greenlight.guru/canvasgt.